Volkswagen Group ties loan to sustainability target for the first time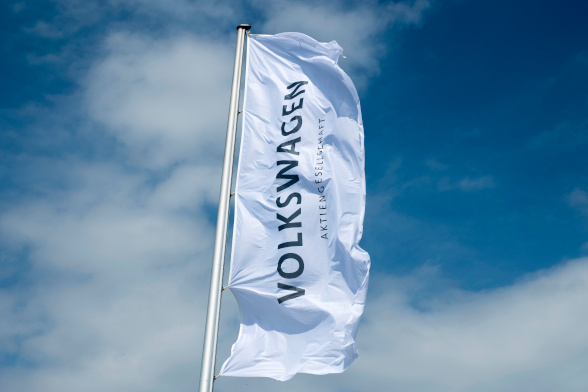 The Volkswagen Group has for the first time concluded a loan with terms tied to achieving a sustainability target (sustainability linked loan). The interest rate on the three-year €1.8 billion agreement depends on the Volkswagen Group achieving its CO2 fleet emission targets in Europe01. The funds will be used for refinancing and to cover new liquidity requirements. The loan is provided by a consortium of banks comprising Crédit Agricole (coordination), Banco Santander, Bayerische Landesbank, Commerzbank, Intesa Sanpaolo and Société Générale.
In 2018 the Volkswagen Group was the first car manufacturer to commit to the Paris climate targets and set itself the goal of becoming net carbon neutral on the balance sheet by 2050. As part of its NEW AUTO strategy, the Group has entrenched decarbonization in its own "ESG (environment, social, governance), Decarbonization and Integrity" initiative and will drive this topic further.
Back in 2016 the Volkswagen Group launched the most comprehensive electrification offensive in the industry and is aiming to become the global leader in e-mobility under the NEW AUTO strategy. Up to the end of this September the Group delivered more than 290,000 all-electric vehicles worldwide to its customers in the current year, a year-on-year increase of 138 percent. It was thus the market leader in Europe and second in the USA. Its goal is for some 50 percent of its global deliveries to be all-electric vehicles in 2030.
01. EU27 + Iceland + Norway
VGI | Responsible OU: VP | Creation date: news date | Class 9.1