Volkswagen Group Italia for the opera season at the Arena di Verona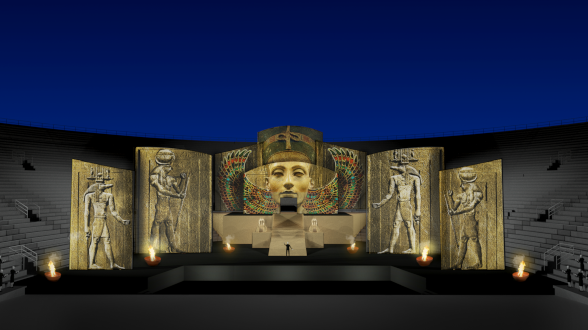 Volkswagen Group Italia confirms its support to the Fondazione Arena di Verona once again for the 98th Arena di Verona Opera Festival: an active contribution to the restart of the world of art and entertainment, which has been particularly hard hit by the pandemic.
Massimo Nordio, CEO of Volkswagen Group Italia: "Aware of the great difficulties that culture and entertainment are experiencing because of the restrictive measures, today we are even more proud to show them our sympathy in a concrete manner, by supporting the Fondazione for the 2021 opera season. Long an international emblem of Verona's cultural vitality and theatrical offerings, today the festival takes on also the symbolic value of the conquest of a new normality for the entire city".
This is not a casual partnership, in fact it's been lasting for over a decade. "This collaboration has become one of the cornerstones of our Corporate Social Responsibility activities in favour of culture and the territory, and contributes to strengthening the already strong bond with Verona, where the Company moved its headquarters almost 50 years ago" added Nordio.
The program of the 2021 Festival - from June 19th to September 4th - includes last year's operas and cast. New are the over 400 square meters of LED walls and the collaboration with some of the most prestigious cultural institutions and museums in the country, for a season marked by experimentation and technological innovation.
The season opens with the Aida in concert, conducted by Maestro Riccardo Muti (June 19th and 22nd), followed by Cavalleria Rusticana and Pagliacci from the 25th of June, Aida from June 26th, Nabucco, scheduled from the 3rd of July, and La Traviata from August 10th. The last of the operas on the playbill is Puccini's Turandot, on stage from the 29th of July.
Once again this year, the program is completed by numerous special evenings: Verdi's Messa di Requiem and the Domingo Opera Night, on July 18th and 30th respectively, the now traditional appointment with Roberto Bolle and Friends on August 3rd, in addition to the evening-event featuring tenor Jonas Kaufmann and the one dedicated to Beethoven's 9th Symphony, on the 17th and 22nd August respectively.