A Volkswagen e-up! for the Verona Police Department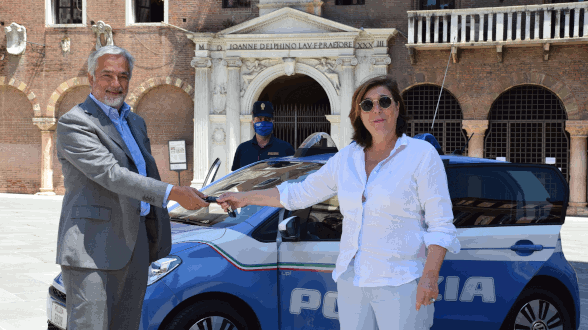 The delivery ceremony of a Volkswagen e-up! to the Verona Police Department took place yesterday morning in Verona's Piazza Dei Signori. Massimo Nordio, CEO of Volkswagen Group Italia, handed over the key of the liveried car to the Chief of Police Ivana Petricca.
The 100% electric zero-emission car will help controlling the territory. The e-up! with the official livery runs only in electric mode, therefore does not produce noise pollution and is emission free. The technical characteristics of the vehicle, especially the electric drive – a 60 kW engine and a range of up to 160 km - and its compact dimensions make it particularly apt for the assigned role: patrolling the Scaliger historical city center.
Massimo Nordio: "After Rome and Milan, Volkswagen Group Italia and the Police Department cooperate also in Verona to guarantee the community ever more efficient services. Since 2015, we have delivered more than 2.000 vehicles to the State Police – many models of all our Brands, i.e. Volkswagen, Audi, SEAT, ŠKODA e Volkswagen Veicoli Commerciali – and this further initiative strengthens a valued partnership, which makes us proud and shows one more time our commitment for the spread of electric mobility in Italy".
The Chief of Police Ivana Petricca: "On behalf of the State Police I am particularly glad of this partnership and I thank the CEO Massimo Nordio, who, after two big cities like Rome and Milan, has thought about Verona and its people in giving a loan to use this car with the Police livery.
The peculiar features of this environmentally friendly car as well as its agility and adaptability led us assigning it the institutional role of "Poliziotto di Quartiere" – an officer who patrols neighborhoods – in the historical center. It will patrol streets and squares of the city center, pedestrian areas crowded by citizens and tourists and full of stores and hotels, to the great benfit of the close relationship with the community".