An Oxygen Area in Volkswagen Group Italia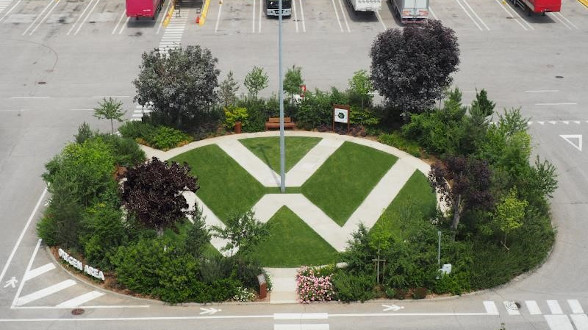 Volkswagen Group Italia's Oxygen Area, built inside the Verona headquarters, occupies a total area of 635 square meters and is composed of trees, shrubs and grassy lawn: all species were carefully selected on the basis of their peculiar air-purifying capacity and effectiveness. The project is one of the initiatives identified by the Company to achieve the goal, shared by the entire Volkswagen Group, of the complete decarbonization by 2050. The purifying activity of the plants is attested by the IBE-CNR (Institute for BioEconomy of the National Research Council of Bologna). Once fully grown and in full activity, they will be able to absorb 7,054 kg of CO2 and 22 kg of pollutants and to produce 5,000 kg of oxygen on an annual basis.* Sgaravatti Group took care of the execution on the Oxygen Area, which created the concept and designed the project.
"With its 'goTOzero' environmental mission, Volkswagen Group Italia has committed itself to a sustainability strategy that aims to reduce the impact of its activities, focusing not only on the continuous improvement of processes and efficient management of all resources, but also engaging to other initiatives, including the Oxygen Area. Thanks to its ability to capture atmospheric pollutants and release oxygen, the area falls perfectly within this perimeter and actively contributes to the goal of achieving a CO2-neutral balance by 2050", says Marcus Osegowitsch, CEO of Volkswagen Group Italia. "At the same time, it is a space that improves the quality of company life: deliberately positioned in a central area of the company garden, between the Spareparts Distribution Center and the office building, it is equipped with Wi-Fi and benches and it is available to all employees for breaks and informal meetings; it can be used as an alternative workstation, but also for events and meetings".
The "green frame" embracing the Oxygen Area includes a great variety of trees, shrubs and herbaceous plants: in fact, it has over 320 specimens surrounding the 170 square meters of grassy lawn. The selected species are not rare, but common plants with surprisingly purifying properties – lime trees, oaks, maples, rosemaries and myrtles, among others. These create a sort of 'chamber' in which the environmental conditions are particularly favourable in terms of air purification, CO2 absorption and oxygen production, thus making a concrete contribution to improving the quality of the air. An IBE-CNR detection control unit is installed inside, which constantly analyses the surrounding atmospheric quality and measures the presence of molecules such as ozone, nitrogen dioxide, carbon dioxide, particulate matter (both PM10 and PM2.5) and fine dust.
*The evaluation is based on the i-Tree Eco model developed by the Forest Service of the United States Department of Agriculture (USDA) and implemented by IBE-CNR for adaptation to local Italian microclimatic conditions; the calculation is carried on the basis of plant size and environmental conditions.
VGI | Responsible OU: VP | Creation date: news date | Class 9.1